Cen-Pe-Co has always maintained that top quality and performance of their products is top priority, making them "The World's Best Heavy-Duty Lubricants"™
Cen-Pe-Co Engine oils are formulated with the best ingredients for maximum performance and protection for your engine.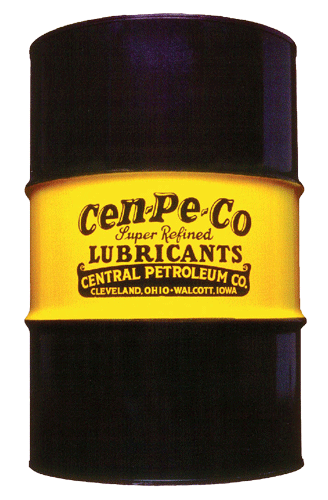 Superior lubrication delivers maximum performance and economy. At Central Petroleum Company, we have made it our responsibility to provide our customers with the most technologically advanced, extra-duty lubricants. Our customized oils are exclusively engineered to exceed today's specifications. They are simply the best. That is why customers have entrusted us to lubricate over $100 billion worth of equipment in agricultural, construction, trucking, and industrial applications.
While most other oils are made from mixed crudes of varying quality and origin, Cen-Pe-Co oils utilize the highest grade of 100% pure paraffinic base stocks available. The American paraffin base oil provides superior thermal stability, film strength, and energy conserving lubricity. These high quality base stocks are combined with our antiwear and corrosion preventative additives to deliver the absolute best performance possible. The result is a premium oil that outperforms and outlasts conventional brands. Superior engine performance can only be achieved with superior engine lubrication.
Engineered to save you money
Cen-Pe-Co lubricants enable your equipment to achieve maximum performance while at the same time maintaining the lowest overall operating cost. This is accomplished by our unique combination of high potency additives and 100% pure paraffinic base oils. The result is performance that exceeds the specs.. Engine life is extended up to 50% longer through reduced friction and wear, cooler and cleaner operation, maximum acid neutralization, and minimized oil breakdown. Maintenance and operating costs are in turn lowered due to increased fuel economy, extra protection for extended oil drain intervals, longer engine life, reduced oil consumption, and an overall reduction in downtime.
Excellence cannot be compromised
When it comes to lubricating your equipment, excellence cannot be compromised. That is why those who are satisfied with "only the best" use Cen-Pe-Co oils.
With today's demands for optimal performance, Cen-Pe-Co lubricants set their own standards by exceeding everyone else's.